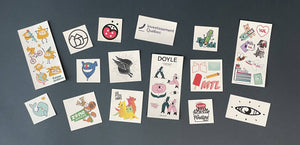 Tattoos for all occasions.
We also offer a personalized creation service according to your needs.
Who are our services for?
Are you a business, community organization or school? You are looking for a means of financing or you are organizing a major event. Want a different promotional item? Temporary tattoos will meet your needs.
You already have your visual or you want a personalized creation, everything is possible! We offer a complete service, from design to delivery. We even offer packaging options and assembly service if needed. All you have to do is approve the proofs, we take care of the rest.
Minimum print is 1000 units. This lot is not divisible, which means that it must be 1000 times the same illustration. Our tattoos are printed in the USA with hypoallergenic, non-toxic inks. Several formats are available.
Regular print time is approximately 3 weeks. The lead time for a turnkey production of packaged tattoos is 4 to 5 weeks depending on the quantity.
We accept several types of digital files such as .jpg, .tiff, .png or .psd images, at 300 dpi as well as .eps, .ai and .pdf vector files.
See our templates at the bottom of the page.
Tattoos are printed in the United States and are always done in 4 color process (CMYK). We can also print white, for the same price. Measurements are in inches. A clearance zone of 1/8" on the 4 sides is necessary for cutting, and this, for all formats. Thus, for a format of 2"x2" the final tattoo will be a format of 1.75"x1, 75".
Each custom temporary tattoo is individually cut to your desired size. A transparent protective film covers each of the tattoos. Custom temporary tattoos are grouped together in quantities of 200 units and packed in bulk using a rubber band. Your order of tattoos will be delivered in protective zyploc packaging.
We recommend that you store the tattoos in their bag in a dark and dry place for better preservation over time.
We offer FREE delivery at all times on orders personalized tattoos.
We offer several packaging options.
Tattoo only
Tattoos only, no packaging. The tattoos are delivered in packs of 200 units. This option is the fastest and most economical.
3 week lead time
Discover
Tattoos, bags and cardboard
Tattoos, bags and cardboard, unassembled. The tattoos are delivered in packs of 200 units. You also receive personalized boxes and bags to be able to pack your tattoos.
3 week delay
Discover
Packages tattoos
Turnkey project. Personalized tattoos, bags and cardboard, delivered assembled. You will receive the tattoos in packs of 100 units packaged and ready for distribution.
Delay of 4 to 5 weeks
Discover
Do you want to have a tattoo with packaging?
Nothing simpler, the option is available directly on your online order. We offer the printing service of personalized cardboard according to the format chosen for your tattoos. Note that some tattoo sizes do not have a packaging option. The packaging includes fully customizable full color double-sided printed cartons as well as individual bags adjusted to the size of your tattoos. Everything is delivered loose and unassembled. You must therefore assemble the tattoo and the cardboard in the bag. This option is ideal for companies that have the workforce and a little time on their hands. This option is economical and fast. The production time is 3 weeks.
Do you want to have turnkey?
It is also possible to choose this option when ordering online. We can assemble your products for you. This option is more expensive but hassle-free. You receive a product ready for distribution or resale. Production time is 4-5 weeks depending on quantity.
We have templates to make it easier for you.
We offer PDF templates for editing your files with our most popular formats. If you need more information, contact us and we will be happy to help you.
Tatouage
Carton
1,5" x 1,5"
PiCO_tatouage_1,5x1,5
-

1,5" x 2"

PiCO_

tatouage_1,5x2

-
1,5" x 2,5"

PiCO_

tatouage_1,5x2,5

PiCO_carton_1,5x5
2" x 2"

PiCO_

tatouage_2x2

PiCO_carton

_2x3
2" x 3" 

PiCO_

tatouage_

2x3

PiCO_carton

_2x5

2" x 4"

PiCO_

tatouage_

2x4

PiCO_carton

_2x5

4" x 4"

PiCO_

tatouage_4

x4

PiCO_carton

_4x6

4" x 6"

PiCO_

tatouage_4

x6

PiCO_carton

_4x7,5